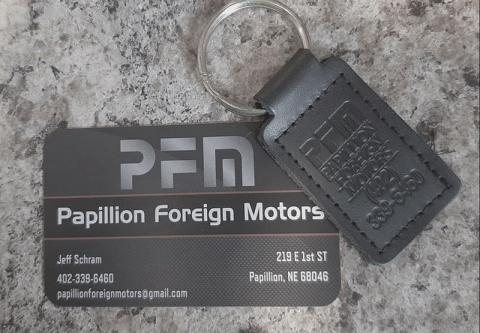 Honest, Reliable and Professional Auto Repair Shop in Papillion, NE
Papillion Foreign Motors has been providing quality service in Papillion, NE since 1976. Our owner and operator, Jeff Schram, has been working on vehicles since he was young. We are a family-owned and operated business delivering honest and professional automotive repair and maintenance services to the people of Omaha, Papillion, Bellevue, Gretna, Ralston, La-Vista, Springfield, Louisville, Plattsmouth, Elkhorn, and the surrounding areas. We believe that our services go beyond vehicle maintenance and repair. Your vehicle's safety is important to us and we understand you are trusting us with the car that gets you and your family where you need to be. That's why we at Papillion Foreign Motors, we care for each vehicle as if it were our own. The secret to our quality auto services is a carefully designed maintenance plan. With routine inspections during maintenance services, our team will recognize any potential problems and take care of them. Our service advisers will consider your vehicle's age, your driving habits, and the manufacturer's recommendations when designing your unique service plan. Our ASE Certified owner and his trusted technicians are using the industry's most advanced tools and equipment to perform all repairs and maintenance services. We're a highly-trained team, always ready to meet your auto service needs.
Meet the owner
Jeff Schram was born and raised in Papillion and has lived here his entire life. He started at PFM at just 16 working part-time through high school and college. He graduated from Iowa Western Community College with an associate's degree in applied electronics. Jeff quickly became an ASE Master Technician in 1994, and after 33 years of service, he took over the reins when the previous owner retired in 2019, carrying on the tradition of quality service that Papillion Foreign Motors was founded on. Jeff believes that each customer is a vital part of PFMs history, and he is proud to care for vehicles from customers that drive hours for the unparalleled service that Papillion Foreign Motors has to offer.
Jeff is very passionate about mountain biking and serving the community. He is a member of THOR (Trails Have Our Respect) which is a chapter of IMBA (International Mountain Biking Association.) He worked with THOR and the City of Papillion to put in what is now over 5 miles of mountain bike trails at Walnut Creek Recreation area where he resides as the trail leader. He also coaches the joint High School Mountain Bike team for Papillion LaVista and Papillion LaVista South high schools.
Links of interest